Director: Stefano Cau, Producer: Salvatore Cubeddu, Produced by: Terra De Punt, Italy, Language: Sardinian, 2022, 52′, Rights: World 
Badabò is a Musical-docu-reality-short film that follows the life of Rosella Faa a performer and musician, who following the pandemic is forced to look for a new job. Having found a job in home care for the elderly, Rosella has to reach the people assigned to her in the most remote places, discovering a world that lives the contingent situation with serene acceptance. In front of the camera, women and men on the threshold of becoming centenarians share personal memories and emotions, letting themselves be infected by the unpredictable musical drifts of the protagonist.
As in an ethnographic film revisited by Jacques Demy, cinema of reality and musicals merge, giving life to an unprecedented experiment, even social. Featuring Rossella Faa e Gesuina Salvatore Benito, Evandro, Dante, Umberto, Biagio, Teresa, Angela, Benvenuto.
"Rossella Faa's musical moments are grafted into a daily portrait of seniority and characterize the work in sparkling scenes and improvisation."
Sardegna Eventi 24
Badabò is a work in the tradition of cinéma vérité existing in the space between documentary, fictional cinema and musical.
Directors Statement
Stefano Cau in the director's notes explains that the film was born from the desire to explore life in the last section: "Heads covered by white hair, deep wrinkles, voices shaped by time and sumptuously blush, these are the bodies that materially occupy the film, perpetually in dialogue and contrast with Rossella, who if at first she seems to have control of the surrounding world, and a certainty of her own place, ends up getting lost in their world, which she had entered for a job, perhaps temporary, perhaps
underestimating it ".
About Rosella Faa he says: "Rossella sometimes appears as a 'mother' who takes care of them, sometimes inevitably a child next to people who are so full of energy and free to give a damn about everything and everyone, that they no longer have to be accountable to anyone. Energy and freedom, these of the over-eighty-year-olds, which inevitably also affected the creation of the work, improvisation and the possibility of guiding them on the scene. Badabò is a film with a lot of improvisation. The protagonist follows a canvas, quite precise and structured. The elderly do not. They try, but often improvise ".
About the director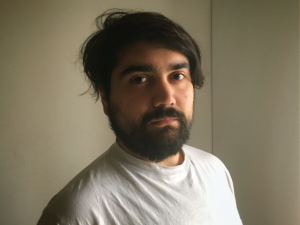 Born in 1991, Stefano Cau collaborates with some Sardinian production companies, directs his own works and at the same time writes screenplays and projects for other directors. In 2019-2020 he directed the short film Issa, presented in competition at the Torino Film Festival 2020, and, in 2020, Creatura
Festivals
Presented in competition at the 40th Bellaria Film Festival