Director: Andrei Kureichik, Screenplay: Andrei Kureichik Copyright: Bez Buslou Arts, Sales in collaboration with Fat Frogs Media, Country: Belarus, Language: Russian/Belarusian, 61′, 2015, Rights: World 
In GaraSh a young Belarusian lad Artem Kuren (Artyom Kuren) does not want to return to Belarus after his student VISA has expired. However, the circumstances force him to do that. Back in his native country once again his American dream turns into a darker Belarusian one.
This dark comedy about car mechanics working in the Shabany district on the outskirts of Minsk reveals a clash of civilisations. The young hero, born in Belarus, has lived and worked in the USA under the program Work & Travel for five years, adopted that lifestyle and made the "American dream" his formula for happiness. On his return to Belarus he works in a Shabany garage which has its own philosophy; a different view of reality, closer to that of the Soviet Union.
Cast:
Vadim Gaydukovskiy
Aleksandr Kulinkovich
Artyom Kuren
Elizaveta Shukova

Director's Bio: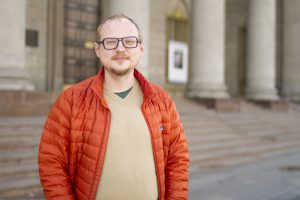 ANDREI KUREICHIK
Playwright, director, and civil activist
Andrei Kureichik is a Belarusian playwright, director, publicist, civil activist and 2022 Yale World Fellow. As a writer and director prior to 2020, Andrei was especially beloved for his comedies and suspense thrillers. Following the contested presidential elections and brutal aftermath in Belarus in August 2020, Andrei gained an international following as a political playwright. Forced to flee the country as a member of the Coordination Council working with perceived winner Sviatlana Tsikhanouskaya's transition team, Andrei leveraged his creative energy to produce the documentary play "Insulted. Belarus(sia)" about the 2020 presidential elections, subsequent protests, and violent crackdown by Alexander Lukashenko's regime in Belarus. The play has been translated into 29 languages and received 200 readings and performances across the globe. Articles about the play have been published in Plays International and Europe, Contemporary Theatre Review, the Boston Globe, Dialog, and Theatre Journal.
As a member of the Coordination Council of Belarus, he was awarded the 2020 Sakharov Prize by the European Parliament. In 2020 Andrei founded the YouTube civil rights channel "Alternative Blogovision" which in one year became one of the leaders of the Belarusian segment of YouTube with more than two million of views per month.
Previous work includes:
Amursky. Count Muravyev, a play about Russian statesman Count Muravyev-Amurksy, staged at the Khabarovsk Regional Drama Theatre
Moving Up (as screenwriter), a film about the victory of the USSR's national basketball team at the 1972 Munich Olympic Games, which became the highest-grossing film in the history of Russian cinema
Insulted. Belarus, a unique theatre project of international solidarity with Belarus about the protests in the wake of Lukashenko's refusal to cede power. This play has been at the centre of over 200 performances, readings, screenings and discussions worldwide.
Kureichik has won several prestigious awards, including the Russian Ministry of Culture Award for Best Modern Play for Piedmont Beast (2002), the Belarusian Ministry of Culture Award for Best Modern Play for Old Senor (2003), a Special Jury Prize from the Russian Professional Film Production Award SHOT! for Above the Sky (2012), a Special Award for Cinematic Versatility at the XVIII Open Russian Comedy Film Festival Smile, Russia! for PARTY-ZAN (2017), and the Best Director Award at the XII International Festival MILK in Odessa, Ukraine for Insulted. Russia (2019).