Director: Andrei Kureichik, Screenplay: Dmitry Marinin and Andrei Kureichik Copyright: Bez Buslou Arts, Sales in collaboration with Fat Frogs Media, , Country: Belarus, Language: Russian & German 1h 45min, No release date (in post-production), Rights: World 
The film picks themes from ancient Greek mythology, Shakespeare and an old Belarusian legend where a widow loses her son but preserves herself.
Anna and Leon, an Interpol agent, meet as he investigates her missing husband. She is a woman with many secrets, and they embark on a love affair, leading to tragic consequences.
Anna (Svetlana Anikey) an enigmatic woman, presides in her decaying country mansion, resembling a pagan temple. As  Penelope was waiting for Odysseus, Anna, in spite of threats and temptations, is waiting for the return of her missing husband.
Anna, like Lady Macbeth, rushes through the woods at night, to release her repressed sexuality and a strong sense of guilt.
In the light of day, Anna seems to be the perfect lady of the manor and caring for her adult son.
Her son Igor is a drug addict. And Anna has him hidden by force in the basement of the house, in absolute isolation. With her strong-willed decision, Anna's intentions are good she hopes to break her son's malignant desire and bring his mind back to normal life.
Anna plans to keep him imprisoned for at least another year. He tries to get out into the wild by force — all without success, leading him to a desperate decision.
However, the fate of her missing husband worries not only her but also Interpol. Leon played by Jean-Marc Birkholz (Chernobyl) an experienced  German Interpol investigator,  who dealt with the case of her husband's disappearance. Suddenly he reappears, confident that if he finds Anna's son missing he will come to him through his father.
During his visits, Leon arranges a lie detector test. He finds Igor's stash of drugs. But Anna throws herself at Leon and seduces the rational investigator.
The romance unfolds between Anna and Leon. But when he comes too close to revealing her secrets Leon with his search for truth swung this stable world of illusions and pays dearly for it.
It becomes clear that Anna's mystery is completely different. Anna has built a life with her imagination, and she will continue to wait for her own Odysseus.
Cast:
Svetlana Anikey
Jean-Marc Birkholz
Sergey Vlasov
Yaroslav Shkuratov
Gleb Kureychik
Yury Tsarev

Director's Bio: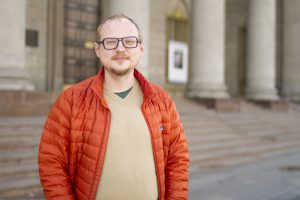 ANDREI KUREICHIK
Playwright, director, and civil activist
Andrei Kureichik is a Belarusian playwright, director, publicist, civil activist and 2022 Yale World Fellow. As a writer and director prior to 2020, Andrei was especially beloved for his comedies and suspense thrillers. Following the contested presidential elections and brutal aftermath in Belarus in August 2020, Andrei gained an international following as a political playwright. Forced to flee the country as a member of the Coordination Council working with perceived winner Sviatlana Tsikhanouskaya's transition team, Andrei leveraged his creative energy to produce the documentary play "Insulted. Belarus(sia)" about the 2020 presidential elections, subsequent protests, and violent crackdown by Alexander Lukashenko's regime in Belarus. The play has been translated into 29 languages and received 200 readings and performances across the globe. Articles about the play have been published in Plays International and Europe, Contemporary Theatre Review, the Boston Globe, Dialog, and Theatre Journal.
As a member of the Coordination Council of Belarus, he was awarded the 2020 Sakharov Prize by the European Parliament. In 2020 Andrei founded the YouTube civil rights channel "Alternative Blogovision" which in one year became one of the leaders of the Belarusian segment of YouTube with more than two million of views per month.
Previous work includes:
Amursky. Count Muravyev, a play about Russian statesman Count Muravyev-Amurksy, staged at the Khabarovsk Regional Drama Theatre
Moving Up (as screenwriter), a film about the victory of the USSR's national basketball team at the 1972 Munich Olympic Games, which became the highest-grossing film in the history of Russian cinema
Insulted. Belarus, a unique theatre project of international solidarity with Belarus about the protests in the wake of Lukashenko's refusal to cede power. This play has been at the centre of over 200 performances, readings, screenings and discussions worldwide.
Kureichik has won several prestigious awards, including the Russian Ministry of Culture Award for Best Modern Play for Piedmont Beast (2002), the Belarusian Ministry of Culture Award for Best Modern Play for Old Senor (2003), a Special Jury Prize from the Russian Professional Film Production Award SHOT! for Above the Sky (2012), a Special Award for Cinematic Versatility at the XVIII Open Russian Comedy Film Festival Smile, Russia! for PARTY-ZAN (2017), and the Best Director Award at the XII International Festival MILK in Odessa, Ukraine for Insulted. Russia (2019).