PRESS RELEASE
21/7/20
FØROYAR PICKED UP BY FAROESE PUB BROADCASTER
British sales house Videoplugger are happy to announce that Kringvarp Føroya/The Faroese Broadcasting Corp. the national public broadcaster will broadcast "Føroyar" a feature documentary set on the island.
About "FØROYAR" (60′)
The Faroe Islands are 18 islands in the North Atlantic somewhere between Scotland and Iceland. A quiet and uncontaminated place, which is mostly only mentioned for their old custom of Grindadráp, better known as whale hunting that has been practised in the Faroe Islands since about the time of the first Norsemen settled there around the 9th Century. This documentary has some stunning HD nature scenes and also tackles the contested subject matter of Whale hunting. Steig Nielsen The first minister of the island appears as well among other locals sharing their views.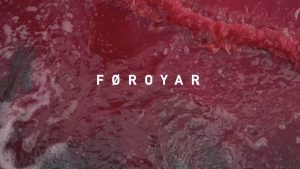 Kári Sólstein Head of program, The Faroese Broadcasting Corp. said:
"Kringvarp Føroya is pleased to get the rights to broadcast the documentary FØROYAR and let the Faroese viewers see themself in the eyes of foreigners."
Sara Mignogna, Director/Producer, said:
"The Faroe Islands are so remote and beautiful, If you search on the internet you'll find amazing pictures, but also a lot of newspaper articles that accuse them of horrific treatment of whales. The Faroese people have hunted whales for centuries, and I asked myself why is a modern society still doing this? Does anyone ever ask why? In the days spent there, I learned many things, that no newspaper reports. The inhabitant doesn't realize how special they are. On this journey we had the opportunity to live beside the locals, to understand their challenges and we saw their very human side. I tried to give voice to the inhabitants of this remote island. I am delighted that this documentary can be seen and shared and I hope it will be able to give a new voice and vision to these islands, which deserve to be known.
Thanks to all the people that helped us in this adventure."
Ebba Eriksson, CD Videoplugger said:
"We are so happy to be supporting a young talented Italian director like Sara Mignogna on her directorial debut, in such a brave and well-made documentary on the thorny subject matter of whale hunting. It is dealt with in a respectful way and lets the audience see the local point of view. The deal with Kringvarp Føroya is a stamp of approval for this feature documentary."
Media contact – info@videoplugger.com