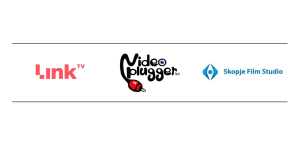 LINK TV ACQUIRES "ONLY HUMAN" FROM VIDEOPLUGGER
British sales house Videoplugger together with Macedonian production company Skopje Film Studio are delighted to announce that feature film "ONLY HUMAN" has been picked up in a deal with Link TV.
About "ONLY HUMAN"  (HOMO) (North Macedonia, Serbia, Bulgaria, Kosovo, Slovenia, 2021, 95′)
What is Man? "ONLY HUMAN", directed by award-winning director Igor Ivanov, shows six faces, six phases in cleverly connected, blackly comic episodes as desperate characters meet unwittingly in a modern metropolis in the eternal search for the means to survive and find some kind of love.
About Skopje Film Studio
SKOPJE FILM STUDIO is a production company with a wide portfolio of works by well-established film-makers as well as young talents, embracing such feature films as Three Days in September (2015) directed by Darijan Pejovski, The Piano Room (2013) directed by Igor Ivanov, and its most recent minority co-productions Requiem for Mrs. J (2017) directed by Bojan Vuletić, The Frog (2017) by Elmir Jukic, Babai (2015) by Visar Morina and the short Would You Look at Her (2017) by Goran Stolevski. Skopje Film Studio's films were screened and awarded at many respected international film festivals around the world.
About Link TV
Founded in 1999, Link TV is an independent viewer-supported media organization dedicated to providing programs that engage and inform its audiences with unique perspectives, and empower them to become involved in the world. Reaching more than 21 million U.S. satellite households nationally (DIRECTV channel 375 and DISH Network channel 9410), Link TV connects American viewers with people at the heart of breaking events, organizations at the forefront of social change and the vibrant cultures of an increasingly global community. Select programming from Link TV is also available for streaming on Apple TV, YouTube and Roku platforms. For additional information about Link TV productions, web-exclusive content and program schedules, please visit linktv.org. "Cinemondo" brings international cinema to Link TV's foreign movie fans. The new weekly Link TV series is one of the few destinations for cinephiles to watch quality feature films that bridge cultural divides, promote a better understanding of the broader world and entertain us along the way.
Lorraine Hess, Link TV, said:
"We are proud to license the US TV Premiere of 'ONLY HUMAN' for the new season of Link TV's Weekly Foreign Film Series CINEMONDO Premiering Oct. 28. It was difficult to choose 15 films from around the world for our new Season of Cinemondo but I was intrigued and delighted by the way filmmaker Igor Ivanov adeptly intertwines 6 stories featuring different characters, all with their own challenges and personal journey.  It makes a fantastic addition to our series, that includes award-winning Arthouse and international films of substance and quality."
Tomi Salkovski, Producer and founder, SFS – Skopje Film Studio, said:
"We are enthusiastic that Only Human will meet a new, broader audience based in the US. We hope the spectators will enjoy the film as much as we loved developing and bringing it to life."
Ebba Eriksson, Creative Director, Videoplugger, said:
"We are proud to work with such brilliant producers as Skopje Film Studio. This is a great success and a step in our mission to promote films and content from regions that are under-represented on the world market. We are happy 'ONLY HUMAN' is part of Link TV's new CINEMONDO season."