Director: Andrei Kureichik, Screenplay: Andrei Kureichik Copyright: Bez Buslou Arts, Sales in collaboration with Fat Frogs Media, Country: Belarus, Language: Russian/Belarusian, 95′, 2017, Rights: World 
Two mates, Alexei a hapless businessman and Denis a dismissed computer whizzkid, are looking for their big break and to earn the big bucks they think they got lucky when they get the chance to film military scenes for a Moscow film group.
But on the way, Aleksey loses money, and the guys have to get out of this situation in order to avoid clashes with rouge producers or get imprisoned for fraud.
All this despite the fact that they didn't even know how to switch on the camera.
Cast:
Director's Bio: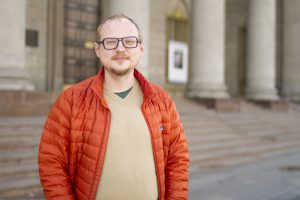 ANDREI KUREICHIK
Playwright, director, and civil activist
Andrei Kureichik is a Belarusian playwright, director, publicist, civil activist and 2022 Yale World Fellow. As a writer and director prior to 2020, Andrei was especially beloved for his comedies and suspense thrillers. Following the contested presidential elections and brutal aftermath in Belarus in August 2020, Andrei gained an international following as a political playwright. Forced to flee the country as a member of the Coordination Council working with perceived winner Sviatlana Tsikhanouskaya's transition team, Andrei leveraged his creative energy to produce the documentary play "Insulted. Belarus(sia)" about the 2020 presidential elections, subsequent protests, and violent crackdown by Alexander Lukashenko's regime in Belarus. The play has been translated into 29 languages and received 200 readings and performances across the globe. Articles about the play have been published in Plays International and Europe, Contemporary Theatre Review, the Boston Globe, Dialog, and Theatre Journal.
As a member of the Coordination Council of Belarus, he was awarded the 2020 Sakharov Prize by the European Parliament. In 2020 Andrei founded the YouTube civil rights channel "Alternative Blogovision" which in one year became one of the leaders of the Belarusian segment of YouTube with more than two million of views per month.
Previous work includes:
Amursky. Count Muravyev, a play about Russian statesman Count Muravyev-Amurksy, staged at the Khabarovsk Regional Drama Theatre
Moving Up (as screenwriter), a film about the victory of the USSR's national basketball team at the 1972 Munich Olympic Games, which became the highest-grossing film in the history of Russian cinema
Insulted. Belarus, a unique theatre project of international solidarity with Belarus about the protests in the wake of Lukashenko's refusal to cede power. This play has been at the centre of over 200 performances, readings, screenings and discussions worldwide.
Kureichik has won several prestigious awards, including the Russian Ministry of Culture Award for Best Modern Play for Piedmont Beast (2002), the Belarusian Ministry of Culture Award for Best Modern Play for Old Senor (2003), a Special Jury Prize from the Russian Professional Film Production Award SHOT! for Above the Sky (2012), a Special Award for Cinematic Versatility at the XVIII Open Russian Comedy Film Festival Smile, Russia! for PARTY-ZAN (2017), and the Best Director Award at the XII International Festival MILK in Odessa, Ukraine for Insulted. Russia (2019).